France Telecom has reported today that 3 major underwater cables were cut: "Sea Me We 4" at 7:28am, "Sea Me We3" at 7:33am and FLAG at 8:06am. The causes of the cut, which is located in the Mediterranean between Sicily and Tunisia, on sections linking Sicily to Egypt, remain unclear.
Most of the B to B traffic between Europe and Asia is rerouted through the USA. Traffic from Europe to Algeria and Tunisia is not affected, but traffic from Europe to the Near East and Asia is interrupted to a greater or lesser extent (see country list below).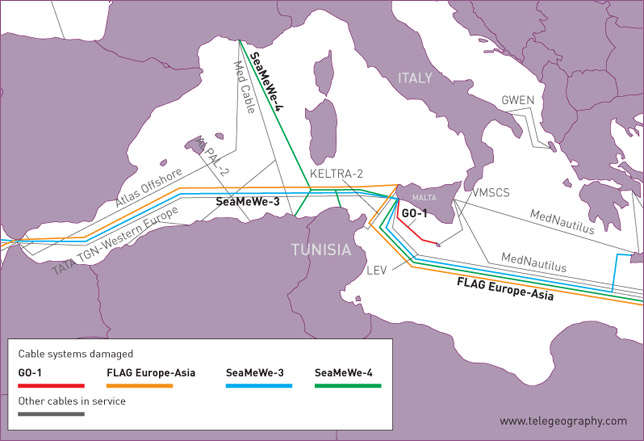 Three undersea cables – Sea Me We3 partly, Sea Me We4 and FLAG – cut in the morning hours of December 19, 2008, causing significant Internet access disruptions between Europe and Asia/Near East zone.
Map by TeleGeography
Part of the internet traffic towards Réunion is affected as well as 50% towards Jordan. A first appraisal at 7:44 am UTC gave an estimate of the following impact on the voice traffic (in percentage of out of service capacity):
Saudi Arabia: 55% out of service
Djibouti: 71% out of service
Egypt: 52% out of service
United Arab Emirates: 68% out of service
India: 82% out of service
Lebanon: 16% out of service
Malaysia: 42% out of service
Maldives: 100% out of service
Pakistan: 51% out of service
Qatar: 73% out of service
Syria: 36% out of service
Taiwan: 39% out of service
Yemen: 38% out of service
Zambia: 62% out of service
[Editor's Note - Dec 21, 2008: The SeaMeWe-4 cable connects 12 countries: Pakistan, Indonesia, Singapore, Malaysia, Bangladesh, India, Sri Lanka, United Arab Emirates, Saudi Arabia, Egypt, Italy and France.]
France Telecom says that it immediately alerted one of the two maintenance boats based in the Mediterranean area, the "Raymond Croze". This France Telecom Marine cable ship based at Seyne-sur-Mer has received its mobilization order early this afternoon and will cast off tonight at 3:00 am with 20 kilometers spare cable on board. It should be on location on Monday morning for a relief mission.
Priority will be given to the recovery of the Sea Me We4 cable, then on the Sea Me We3. By December 25th, Sea Me We4 could be operating. By December 31st, the situation should be back to normal.

The "traffic index" is a score from 0 to 100 where 0 is "slow" and 100 is "fast". It is determined by comparing the current response of a ping echo to all previous responses from the same router over the past 7 days. A score of 0 to 100 is then assigned to the current response depending on if this response is better or worse than all previous responses from that router.
Source: Internet Traffic Report - December 19, 2008
Updates: UPDATED Jan 12, 2009 6:33 PM PST
December 19, 2008
Severed cable disrupts web access BBC
India suffers massive internet disruption after undersea cables break TimesOnline
Damaged undersea cables disrupting service CNet News
Mediterranean Undersea Cables Cut, Again Data Center Knowledge
Severed Cables in Mediterranean Disrupt Communication Bloomberg
Mass Internet outages in Egypt after cables cut AP
Cable Cuts Disrupt Internet in Middle East and India, Again TeleGeography
Subsea Cable Cuts Hit Euro/Asia Route LightReading
Internet services continue in UAE despite cable damage WAM
Latest undersea cable cuts affecting billions VentureBeat
Mediterranean Undersea Cables Cut, Again Slashdot
Severed cables bring down phone lines linking Europe, Asia, Mideast AFP, Paris
Conspiracy theorist wanted CIO Weblog
Deja Vu All Over Again: Cables Cut in the Mediterranean Alin Popescu, Renesys
Why Do Undersea Cables Seem To Get Severed In Bunches? Techdirt
December 20, 2008
Internet cut a 'rare' occurrence TheNational, Abu Dhabi
Cut cables? Conspiracy conjectures! (again) Computerworld
Egypt internet services still disrupted: official AFP
Another Cluster of Cable Cuts SMBlog
December 21, 2008
Internet service still spotty in parts of Mideast AP
Undersea cable damage: BPOs switch to back-up BusinessLine
Repair work starts on undersea telecoms cables Khaleej Times
Undersea Cable Cuts, Internet Governance, and Lessons Learned Baher Esmat, CircleID
Repair crews reach damaged cables in Mediterranean AP
December 22, 2008
Undersea robot searches for severed cables NetworkWorld
IT, BPO cos hit by net breakdown; restoration by Friday IndiaTimes
December 29, 2008
Cable Repairs Set Back by Second Undersea Break PC World
Yet Another Mediterranean Cable Failure Data Center Knowledge
January 12, 2009
Why the Mediterranean is the Achilles' heel of the web New Scientist