A recent study has revealed some of the economics behind junk mail and spam conversion rates conducted in early 2008 by computer scientists from University of California, Berkeley and UC, San Diego (UCSD). The analysis has suggested that spam operations are able to remain profitable and generate millions from minute response rates. The study is described as the first large-scale quantitative study of spam conversion:
"We developed a methodology that uses botnet infiltration to indirectly instrument spam e-mails such that user clicks on these messages are taken to replica Web sites under our control. Using this methodology we instrumented almost 500 million spam messages, comprising three major campaigns, and quantitatively characterized both the delivery process and the conversion rate."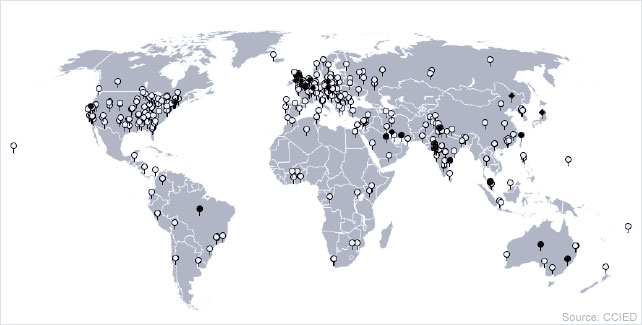 Geographic locations of the hosts that "convert" on spam: the 541 hosts that execute the emulated self-propagation program (light grey), and the 28 hosts that visit the purchase page of the emulated pharmacy site (black). Source:
CCIED
The study also indicated that spammers are more than likely not making the large sums that have been predicted and that "spammers must be sensitive to the details of how their campaigns are run and are economically susceptible to new defenses."
The full PDF version of the paper is available here.
Related Stories:
Study Shows How Spammers Cash In (BBC, 11/20/2008)
More on 'Researchers Hijack Storm Worm to Track Profits' (CircleID, 11/10/2008)
Researchers Hijack Storm Worm to Track Profits (Washington Post, 11/7/2008)