Credit card information is the most advertised category of goods and services on the underground economy accounting for 31 percent of the total, according to recent data found by security experts. In a report released today by Symantec, stolen credit card numbers are reported to sell for as little as $0.10 to $25 per card with the average advertised stolen credit card limit at more than $4,000. According to calculations, the potential worth of all credit cards advertised during the reporting period was $5.3 billion.
The popularity of credit card information is likely due to the many ways this information can be obtained and used for fraud; credit cards are easy to use for online shopping and it is often difficult for merchants or credit providers to identify and address fraudulent transactions before fraudsters complete these transactions and receive their goods. Also, credit card information is often sold to fraudsters in bulk, with discounts or free numbers provided with larger purchases.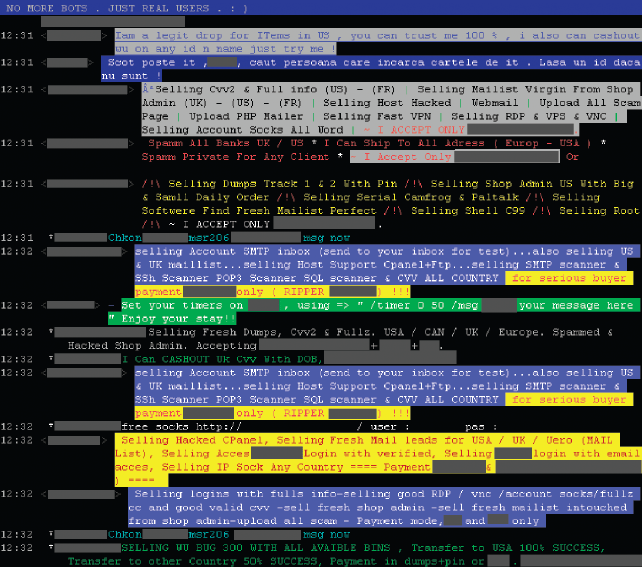 Underground economy channel screenshot:
Advertisers on underground channels attempt to capture attention for their messages using techniques such as capitalization, multi-colored text, ASCII flares, and repeated sales pitches across multiple lines. (Source: Symantec Corporation)
The study estimates the value of total advertised goods on underground economy servers was over $276 million between July 1, 2007 and June 30, 2008.
Related Links:
New Symantec Report Reveals Booming Underground Economy (Symantec, 11/24/2008)
Symantec Takes Cybercrime Snapshot with 'Underground Economy' Report (Network World, 11/24/2008)