Awards South Florida woman entrepreneur a free ad spot during the basketball finals and a fully produced TV commercial.
In the first week of April, Radix's .Online Domains launched the Spotlight.online contest to support women entrepreneurs in South Florida. Susan Aran from Radiate Kombucha (www.radiate.online) won a free TV commercial aired to over 500K Miami viewers during the June 7th Basketball finals, concluding the month-long contest.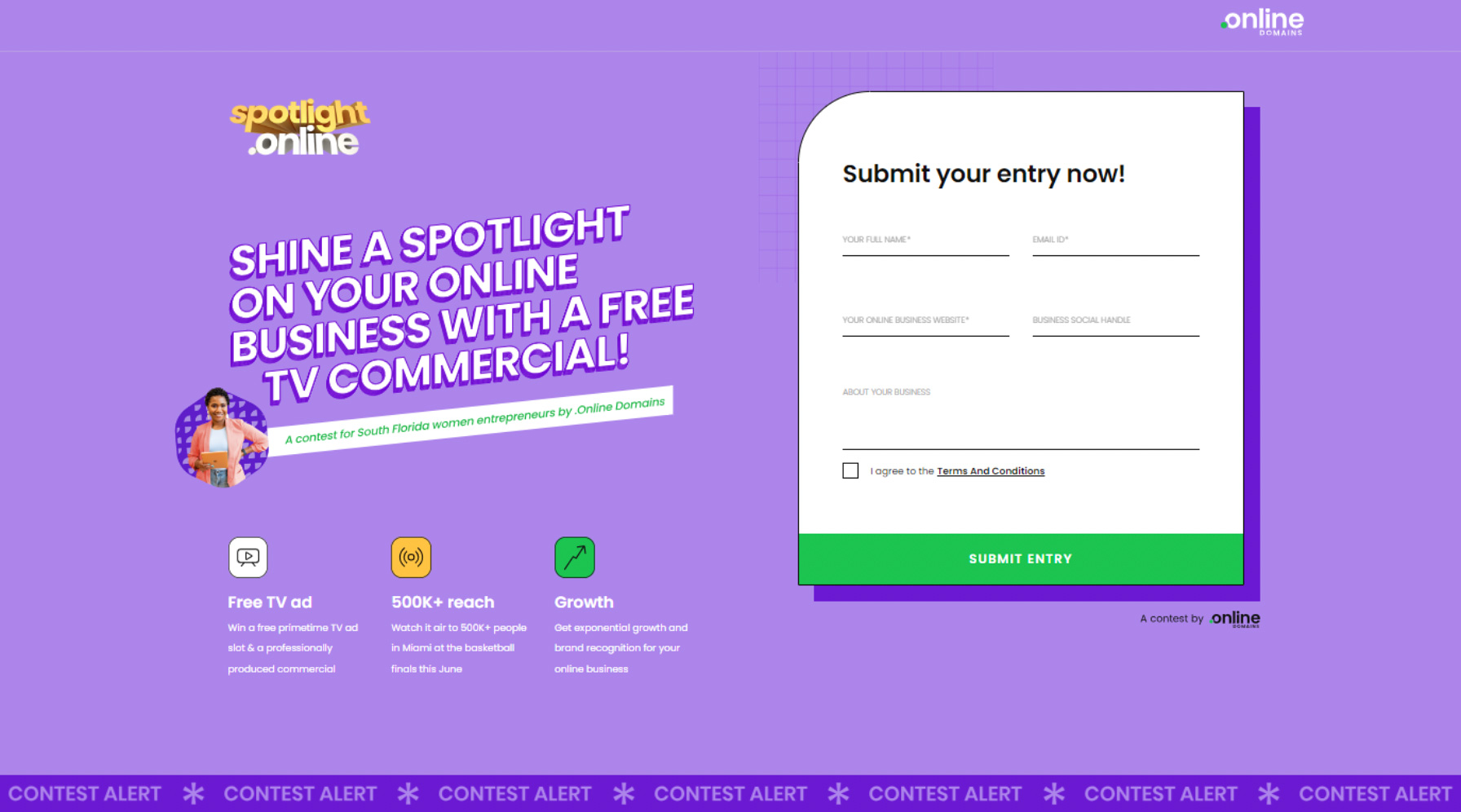 During the course of its run, the contest garnered over 650K social media views, nearly a million impressions and was also endorsed by top local influencers in the SMB space. As part of the contest promotions, .Online partnered with SMB communities such as United Way, Venture Cafe Miami, and eMerge Americas for on-ground activities and engaged over 1200 attendees. The contest received attention from mainstream media, with prime-time coverage from NBC6, CBS Miami, and South Florida Business Journal, amongst others.
Speaking about the contest, Priyanka Panchmatia, Brand Director, .Online Domains, said, "The intention behind offering a TV commercial as the prize was to level the playing field for a local, woman-owned business in South Florida. By providing opportunities otherwise exclusive to big-budget corporations, we wanted to give women-owned businesses a chance to thrive online and get marketing exposure often out of their reach."
In a recent survey led by .Online Domains among women entrepreneurs in South Florida, 36% reported difficulty in securing funds to grow their business, while 54% found it difficult to compete in a crowded marketplace. "Our research clearly indicated there was a gap in the number of women entrepreneurs and the business growth opportunities available to them. This led us to launch the Spotlight.online contest." added Priyanka Panchmatia.
Speaking about her win, Susan Aran, Founder and CEO, Radiate Kombucha, said, "Spotlight.online has been an experience of a lifetime, and I am grateful to .Online Domains for the opportunity. Sharing Radiate Kombucha's story with over half a million people in South Florida and receiving significant media attention after the commercial was aired has been great for the brand. I am proud to be associated with a brand that is committed to supporting women entrepreneurs such as myself. We love our domain, www.radiate.online, because it completely aligns with our D2C brand that ships nationally."
Last year, .Online Domains launched #FempowerOnline, an Instagram-led contest inspiring women entrepreneurs to go live with their business ideas. The contest ran for two months garnering 14M impressions and over 700K views on social media. It was also endorsed by inspiring women influencers with over 4M followers in total.